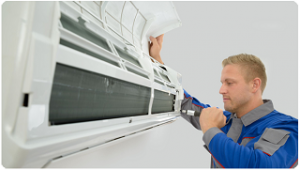 If your Air Conditioning unit is broken? Is it not pumping out enough cool air for your whole house? Is it beginning to make funny sounds or blowing hot air?  Call the best company to fix it!
Our highly trained service technician will be there quickly to inspect your equipment and assess the situation.
We've been keeping local residents and businesses cool for a long time and our service is fast and efficient.
We are a fully insured and licensed contractor and our service technicians are up to date with their knowledge of all makes and models of air conditioning equipment. They will get your air conditioning equipment up and running in no time flat.
We manage all kinds of air filtration and ductwork problems and will provide your system with a complete mechanical inspection and perform the required evaluations. In addition, we use only factory authorized components to guarantee the best quality repairs.
Using expertise and our wisdom, we can ensure your company or your house will remain at a comfortable temperature.
We're your one-stop service and installation business. We take care of all heating and air conditioning equipment. We've been serving hundreds of consumers in your region for a long time.
Our A/C services comprise:
Crisis air-conditioning 24 hour service
Fix All Makes & Models
Repair and Replace Broken Duct Work
Clean & Repair Coils
Find & Fix Freon Leaks
Exhaust & Filters
Suggest Energy Conserving Care Strategies
Solve issues with Hot & Cold Places In Your House
Entire Cooling System & House Comfort Services
Programmable Thermostats
New installations, wall and rooftop units
Our clients benefit from our:
Trouble shooting by professionals
Competitive pricing
Courteous and experienced technicians
Easy appointment scheduling
We're prepared to assist in the event that you need emergency service for your air conditioner. Don't forget, friendly and quick service is only a phone call away.
Give us a call at our local office number listed above so our trained service technicians can help get your systems restored quickly.
When it's hot outside and your equipment is not working, your life can be unbearable. Call us immediately for our speedy and professional 24 hour service. They will have your equipment running like new in no time at all.
Call now to schedule a system assessment to avoid emergencies 
Watertight Plumbing & Heating provides air conditioning installation and repair services in Mendham NJ, Rockaway NJ, Morristown NJ, and many other towns in Morris, Bergen and Passaic Counties.