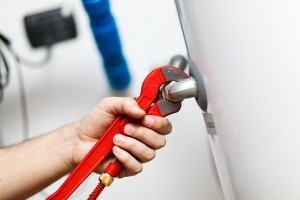 Is your water heater failing to consistently deliver hot water? Do you see water leaking from underneath the tank? 
As a homeowner, tenant or residential property owner, the last thing you want is a major plumbing problem that can cause leaks and even mold or structural damage to your home if not cared for quickly.
We work with homeowners, property management companies (such as condominiums & apartment complexes), hotels/motels, multi-unit housing companies and homeowners associations. We also provide service to commercial customers who require larger scale equipment and support.
We provide extraordinary plumbing services from simple repairs to complex installations. Our technicians are neat, efficient and highly skilled, as well as qualified to evaluate and answer your questions.
As your hot water heater ages it can experience any number of symptoms that our plumbers will use to diagnose whether it needs to be replaced or repaired. Some troubling signs include:
• Condensation on the heater
• noises within the unit
• Bad odors
• Water on the floor
• Sounds of water running
• Lack of hot water
• Low water pressure
• The presence of rust
• Older than 10 years
We solve your plumbing problems efficiently and accurately, so you can continue to enjoy your home. Our professional technicians come ready to handle any situation on the spot, saving you time, money and frustration.
• Same-Day Service Availability
• Personalized Service
Don't let a plumbing problem turn into an unnecessary emergency.
Contact Watertight Plumbing & Heating for service that has been trusted for years. Call our local office number listed above.